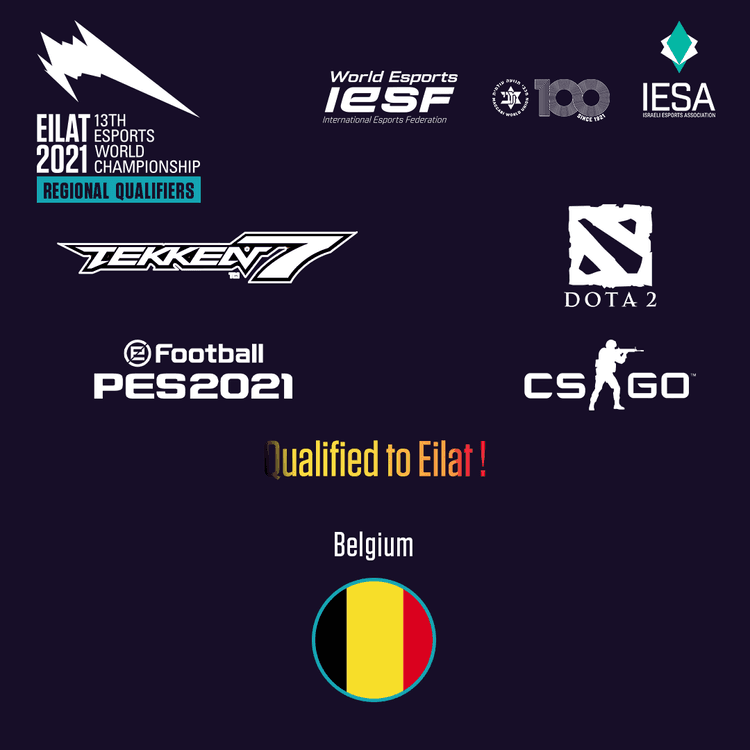 BESF achieving a new record at IESF World Championship 13th edition and onto Eila
9/28/2021
Since last week was held the european qualifier for the 13th IESF World Championship. Belgium was one of the participants in the 4 game titles, counting Efootball PES, Tekken 7, CSGO and Dota 2.
Our national teams already knew the IESF qualifiers as last year they tried their best but ended not playing in Eilat as the Offline stage was cancelled due to sanitary reasons. At that time only PiKaH, our Tekken representative, managed to qualify. But each year is a new history yet to be built !
And so we did. All our rosters entered this year's qualifier with a fresh and determined mind ! Even going through problems such as connection instability or tight planning, esport finds its ways.
One week later all the teams are qualified and we are really proud of their work and engagement for their country. Representing something of this scale can be stressful and the level of competition being at its highest, there isn't much room for error.
But it is now official, we've broken a new national record as Belgium managed to qualify all their rosters to Eilat ! Maybe even an international record, but for that we will have to ask for a confirmation from the IESF archives. The Belgian era is now officially on the table.
Wishing now the best of luck to all our athletes. See you next November at Eilat in Israel, we are hoping for the Belgian esport community to follow us there !