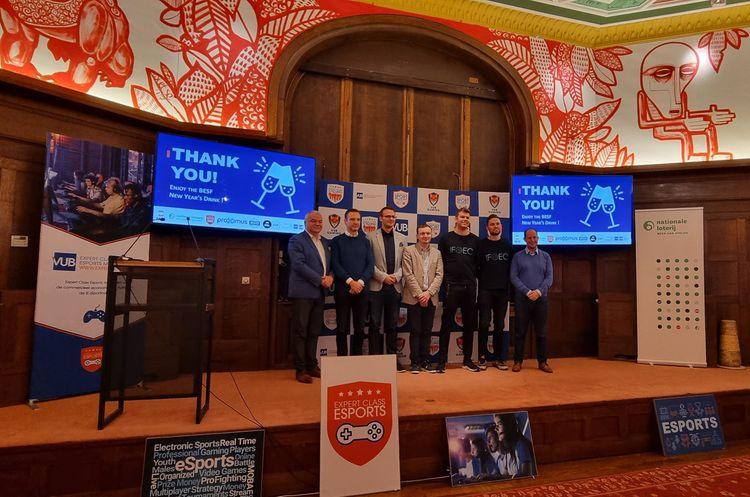 BESF and VUB to host third Esports seminar on performance and coaching
1/7/2023
Thursday, January 5th – Seminar Esports performance and coaching: the ins and outs
After a short introduction of the BESFs 5 Pillars and a general outline by Jos Verschueren, the director of postgraduate sports at the VUB and BESF commissioner for education and research, the seminar began by discussing various topics related to coaching and performance in the esports scene.
Markus Moëckel about the working of the Esports Bund Deutschland (ESBD)
Markus, the head of the German Esports Federation's academy, spoke about the creation and goals of the ESBD and its academy. As a sports scientist and sport psychological coach, Markus emphasized the crucial role that coaches play in esports at every level, from grassroots to the top 0.01%. However, he noted that there is still a lack of awareness and expectations for coaches in the field. In response to this gap, the ESBD established its academy to provide a curriculum for coaches at all levels. The aim of the ESBD academy is to increase awareness of the importance of coaching in esports and to have more educated coaches in the industry.
Matthew Watson & James 'Torok' Thomsen about the International Federation of Esports Coaches (IFoEC)
Matthew Watson, director of Learning and Development at the International Federation of Esports Coaches (IFoEC) and James Thomsen, Coach and student of Politics and International Studies at the University of Warwick performed a well-coordinated duet between the two, continuously altering between theory and practice. Matthew shared his concerns about the lack of focus on player development and the shift in motivation from intrinsic (playing for fun) to extrinsic (needing to win to keep one's job) in esports organizations. He also discussed the physical and emotional toll this shift can take on players, including the risk of burnout and depression. Parallel to this, Matthew's studies have proven that there is a lack of clear career paths for coaches, who often must focus on short-term goals in order to prove themselves worthy rather than on long-term development. James, a coach since the age of 16, corroborated many of Matthew's observations and provided personal insights from his own career. He also expressed a desire for more support in reaching the top levels of coaching in esports.
Anton Van Gorp his findings as a Complexity CS:GO analyst and assistant Coach
Following a short coffee break, Anton, the CS:GO analyst and assistant coach for Complexity, shared his expertise as a coach and analyst for the team. Anton highlighted the importance of team balance in achieving success, stating that the right combination of egos, roles, and personalities is necessary for a team to perform at its best. He emphasized that it is not always necessary to have the best players individually, but rather the right mix of players who can work together effectively. Continuing the theme of team balance, Anton emphasized the importance of team balance and the role of the coach in achieving it. A good coach should listen to and adapt to the needs of their players, rather than imposing a playstyle that does not fit the team. Anton noted that a coach who is willing to learn and adapt is crucial for success, while a bad coach might hinder it by forcing a mismatched playstyle.
Matthias Dewilde on battling game addiction with gamechangers
Matthias, the co-founder of GameChangers, an organization dedicated to addressing game addiction, started his presentation that began with a personal biography about his own experiences with gaming. As a young man, Matthias found himself increasingly isolated and consumed by games like FIFA and World of Warcraft, neglecting other hobbies and relationships. However, a power outage forced him to confront his own loneliness and lack of social skills, and he began working on himself and building relationships outside of gaming. This led him to start GameChangers, where he provides support and coaching to people struggling with similar issues, using a structured approach. Matthias also helps (re)connect parents with their children and help them navigate the world of online gaming.
Rudy Heylen wrapping up esports in brief
Rudy Heylen, a mental coach and owner of Heavy Mental, concluded the seminar with a summary of the presentations given by the other speakers. Rudy described coaches as having a presence in every aspect of the esports industry, like a centipede with many legs. He also emphasized the importance of coaches being open to concept of "not knowing" in order to handle situations effectively and help their players perform to their full potential. Rudy encouraged coaches to listen to their players and adapt to their needs rather than imposing their own ideas on the team. Overall, the third Esports seminar on performance and coaching, hosted by BESF, VUB, and EGO, was a success. Topics covered included the role of coaches in esports, the importance of team balance, and strategies for addressing game addiction. The seminar featured speakers who provided insights and expertise on these topics. Overall, the seminar offered valuable insights and discussion on key issues related to coaching and performance in the esports industry.